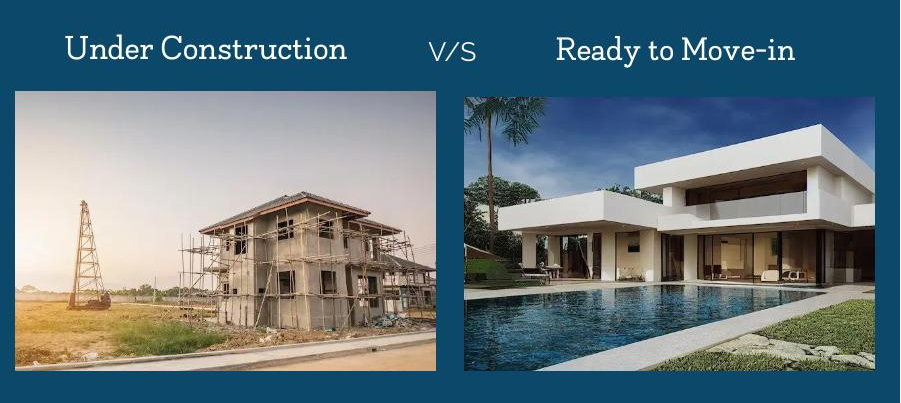 Homebuyers mostly get confused when they have to decide between under-construction and ready-to-move-in properties. Both these properties serve different purposes, so it's vital to know their advantages and disadvantages. The below guide will help you know which one will benefit you.
Though owning an under-construction home/property is easy, it comes with its share of risks, such as delayed possession. So, which property is better? Here are the advantages and disadvantages of buying a construction v/s ready-to-move-in property.
Advantages of under-construction property
Cost-effective
Under-construction properties do not put a hole in your pocket like ready-to-move-in homes. If you want to make a small investment in property or looking for affordable homes, an under-construction home can be perfect for you.
Higher returns
The under-construction property provides high returns on investment, as there is a time gap between the purchase and the home delivery. And if you have bought a home in an area where there is a thriving real estate market, it can be even more beneficial.
Customization
It allows homebuyers to customise specific things in the property, such as fixtures and finishes, as per the building parameters. This helps them add value to the property without increasing its cost.
Disadvantages of under-construction properties
Higher risk
Risk is always involved in under-construction properties; Many cases have surfaced where buyers have faced certain issues with builders, such as delays in construction or failure to deliver home. And many reasons are responsible for it, such as lack of funds, rise in the cost of construction materials, etc. So, one must consider consulting with a reputed property dealer in Mohali before investing in an under-construction property.
Unexpected final product
There is always uncertainty involved with the under-construction property, as the final product may be different from what one has expected.
Tax implication
Under section 24, tax benefits are given to buyers who purchase homes through loans, but the benefits are limited to ready-to-move-in homes. However, there is something for homebuyers here- if the construction gets completed within three years and they get shifted within that time, the buyer is eligible for a tax exemption of Rs 2.5 lakh on the interest. Similarly, if a home buyer moves into the home within five years, he/she can claim a rebate of Rs 30,000.
Apart from this, we've written a detailed blog on Property taxes that every home owner should know.
Advantages of ready-to-move-in homes
Immediate availability
Homebuyers need not wait years to shift to ready-to-move-in homes; they just have to make payment, sign the document and move in. Ready-to-move-in homes also help save buyers money on rent and monthly EMIs if they have availed of a loan.
You receive what you see
Unlike under-construction homes, where there is always an unexpected element, you will get what you see and pay for in ready-to-move-in homes. So, there are fewer chances of any discrepancies with amenities, layout and other things in the house.
Disadvantages of ready-to-move-in homes
High cost
Ready-to-move-in homes are costlier than under-construction homes; Because developers provide buyers with fully finished homes and all the amenities.
Quality of construction
Under-construction homes provide buyers with the opportunity to assess the quality of materials used in the construction. They can also check the integrity of the structure and strength of the building while the work is in progress, which is impossible with a ready-to-move-in home.
Age of the premises
Ready-to-move-in homes may or may not be brand new, unlike under-construction homes/properties. Some ready-to-move properties may be on sale for a long time. Also, if the property is old, it can have problems such as damaged walls, drainage problems, etc.
Limited customization
As ready-to-move-in properties are already constructed, you can't make changes to their design and finishes to your preferences. Though you can make minor changes/improvements, big changes may not be feasible.
The bottom line
So, these are some pros and cons of under-construction and ready-to-move-in properties. If you are thinking of buying a property, evaluate them thoroughly and make an informed decision.